Need to send a letter to India but getting overwhelmed by the procedure and the country's rules and regulations? Your concern is justified as even the most minor mistakes like cultural misunderstandings, putting information in the wrong spots, or improper format can hinder the timely delivery of your letter.
Fortunately, delivering letters to India is simple if you follow all rules and regulations and craft your letter appropriately. In this article, we have penned some basic protocols for sending letters to India to clear all your misconceptions. So let's get into it.
If you're looking for the quickest and easiest way to send a real letter to India, let us do the heavy lifting. With e-Snail, you can send a physical letter to anywhere in the world.
India Address Format
If you want to prevent delayed or returned letters while sending them to India, you should be extra careful while labelling the envelope. You must also write the recipient's address in the correct format since there are many variations compared to other variations.
Usually, the format of Indian addresses is followed as:
1st line: Write the first and last name of the addressee and also include their title (optional)
2nd Line: Mention the name of the sender's company (if possible)
3rd Line: The third line should feature the name and number of the building/flat or house
4th Line: Put the number and name of the road or street where they live
5th Line: Include the name of the district/state here
6th Line: Write the postal code followed by the name of the town, city, or village
Some critical rules regarding the placement of information include:
The address of the recipient must be written on the front, while the sender's address is mentioned on the back side so that it can be returned in case of any issues.
A gap of a minimum of 15 mm shall be kept from the left, right, and bottom sides of the envelope before writing the address block.
The name/logo of the sender's company is placed in the top left corner. Logo size should not exceed 25 x 50 mm size.
Frank impression or stamp is put on the top right corner and must be affixed in a maximum area of 74 mm.
The stamp should be placed with a gap of at least 10 mm from the address block of the receiver.
Addressee's address block should have a minimum 40 mm gap from the top.
Note: Try to use clear handwriting and double-check your spelling.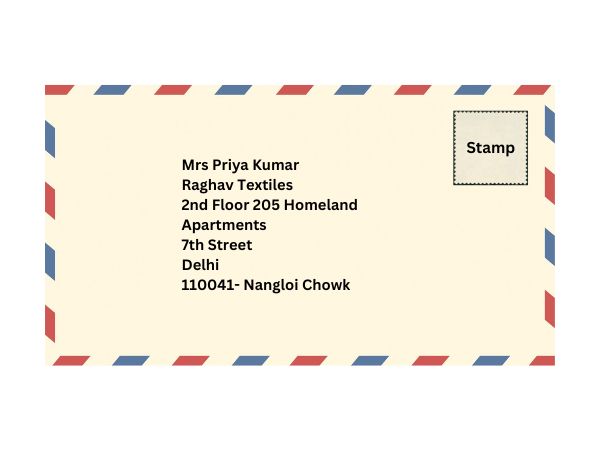 The Basic Structure and Components of an Indian Letter
Salutation: Begin with a gracious traditional greeting like Pranam or Khamma Ghani, followed by the recipient's name. You can also add the person's title (Mr, Miss, Mrs, Professor, etc.) depending on the letter's level of formality.
Letter Body: Firstly, state the purpose of your letter and communicate your business clearly. After writing a brief introduction, write the body, which has no specific length but must include every detail of your letter's subject in a logical order.
Complimentary Closing and Signature: Show courtesy and respect by choosing an appropriate closing for a final touch. Depending upon the tone of your letter, you can select greetings like "Namaste (Goodbye)", "Dhanyawaad (Thankyou)", "Best Wishes", or "Warm Regards".
Moreover, add a printed name or sign seal as it indicates the authorisation of the writer.
Common Titles Used in India For Letters
Based on formal or informal relationships, several respected titles are used in India. Some include Sri (a polite form of addressing someone similar to Mr and Mrs in English) followed by the recipient's first name.
Similarly, Sahab is included after the last name and used for males to show respect. Furthermore, a neutral suffix "ji" is used for both genders in their first names, like "Kumarji" or "Priyaji", as an act of honor.
Indian States and Their Codes
India is one of the world's most populated countries, with 28 states and 8 union territories, each of which has its own capital. Following that, the states, along with their unique 2-lettered codes, are listed below:
Andaman and Nicobar Islands – AN
Andhra Pradesh – AP
Arunachal Pradesh – AR
Assam – AS
Bihar – BR
Chandigarh – CH
Chattisgarh – CT
Dadra and Nagar Haveli – DN
Daman and Diu – DD
Delhi – DL
Goa – GA
Gujarat – GJ
Haryana – HR
Himachal Pradesh – HP
Jammu and Kashmir – JK
Jharkhand – JH
Karnataka – KA
Kerala – KL
Lakshadweep – LD
Madhya Pradesh – MP
Maharashtra – MH
Manipur – MN
Meghalaya – ML
Mizoram – MZ
Nagaland – NL
Odisha – OR
Puducherry – PY
Punjab – PB
Rajhastan – RJ
Sikkim – SK
Tamil Nadu – TN
Telangana – TG
Tripura – TR
Uttar Pradesh – UP
Uttarakhand- UT
West Bengal – WB
Prohibited and Restricted Items For Mailing To India
Every country has a list of prohibited or restricted items, and it's the sender's responsibility to follow the current government regulations. Identically, India has an extensive list of banned items, including:
It is prohibited to send bank bills, notes or currency, alcoholic beverages, animal skins, or advertising brochures relating to a lottery set up by the government.
It is also forbidden to send batteries, credit cards, computer software, drugs, chemicals (hazardous or non-hazardous), and gold ornaments exceeding one lakh rupees to India.
A few more restricted items involve maps where Indian boundaries are shown incorrectly, ivory, obscene materials, live animals or plants, leather goods, and medical samples.
The list continues with money orders, rare earth metals passports, fat of bovine animals, natural abrasives, and industrial equipment.
Conclusion
Hopefully, now you know the procedure for sending a letter to India. Also, remember to follow all the crucial steps to avoid getting a call from customs. By following our guidelines closely, you can ensure the smooth delivery of your letter to India.
Don't forget, you can also use e-Snail to easily send a physical letter online to anywhere in the world, including India.