Sunny South Africa is a popular destination for ex-pats to retire to, with its diverse cultures, 11 different languages, beautiful beaches, huge game reserves and bustling cities. It also has a population of over 60 million, and that's a lot of people who may have friends and family sending them mail from another country! To make sure that you stay in touch with your loved ones and that your best wishes don't get lost in the middle of all that post, use our handy guide on how to send a letter to South Africa and ensure that it gets to the person, and the place, intended.
If you're looking for the quickest and easiest way to send a real letter to South Africa, let us do the heavy lifting. With e-Snail, you can send a physical letter to anywhere in the world.
South Africa Address Format
If you want to send a letter to South Africa and you want it to get there quickly and in one piece, then you need to take extra care in the formatting of your recipient's address.
Firstly, the address needs to be started in the middle third of your envelope and from the second third across, allowing for plenty of space for any postal stamps or markings along the bottom and top of the envelope.
Secondly, South African mailing addresses are very similar to those used in the UK, so should be set out in the same manner.  However, South African postcodes are made up of only four digits unlike most in the UK.  By sticking to the following rules, there's every chance your letter will get to the right place in good time.
Add the first and last name of the recipient of your letter on the first line of the address, including their title if possible.
The second line should feature the house or apartment number followed by the street or road on which they live.
The third line of the recipient's address shows the suburb they live in. (The province or city name is not usually included)
The fourth line includes the four-digit postcode. South Africa is one of only 8 African countries which allocate a line for the postcode alone.
Finally, the country of destination should be on the last line of your address and should also be written in capital letters.
The sender's return address goes at the top left on the back of the envelope.
When you're finished, the address on your envelope should look something like this: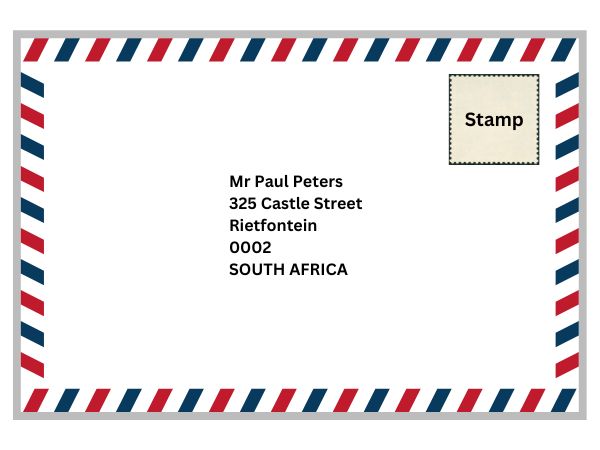 With many areas of South Africa being rural and no street names for more remote addresses, it is common for letters to be sent to a Post Office Box, or PO Box, for later collection by the addressee and less travel for the postman.  An address to a PO Box would look as follows: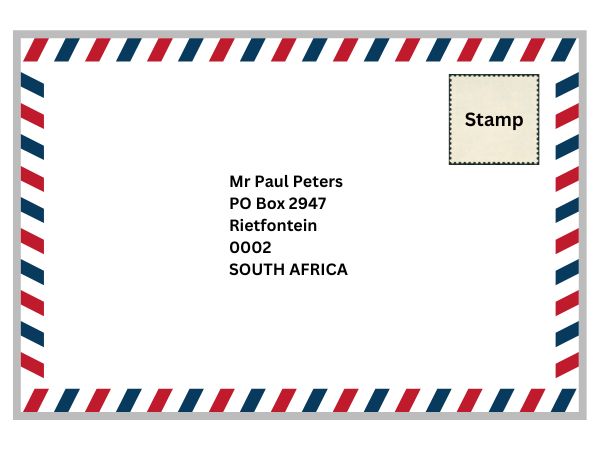 South African Abbreviations
Just as a title such as Mr or Mrs is usually used when addressing letters for the Royal Mail, the same can apply when sending a letter to South Africa.
An example in the Afrikaans language would be Mnr – meneer (Mr or Sir), Mev – mev (Mrs), Juffrou (Miss).  However, due to the number of languages spoken across the country, it may be a bit safer to avoid use of any title and address your post using the first and last name of the addressee only.
Prohibited and Restricted Items
Another thing which needs to be remembered if you are sending anything more than words to sunny South Africa, and that is exactly what can be sent and how.
It is strictly prohibited to send bank notes, including South African bank notes of any issue or denomination, coins, asbestos, any animal, insect or living organism, any biological substance, firearms or parts thereof, fur, ivory or any other animal product, human remains, including ashes, uninsured jewellery or precious stones or precious metals and any film or publication which falls in category XX or X18 of the Films and Publications Act 65 of 1996 as amended. It is also prohibited to include narcotic and habit-forming drugs in any form, fully automatic, military, and unnumbered weapons, explosives and fireworks, poison and other toxic substances, cigarettes with a mass of more than 2 kilograms per 1,000 and goods to which a trade description or trademark is applied in contravention of any Act (for example, counterfeit goods). Finally, unlawful reproductions of any works subject to copyright and prison-made and penitentiary-made goods are not allowed to be sent by post.
When it comes to controlled or restricted items, the main categories include items classed as used goods such as clothes, machinery, plastics and motor vehicles which are not manufactured in South Africa.  This also includes waste, scrap, ashes and residues in order to protect human and environmental health.  Another main category is harmful substances,such as ozone depleting chemicals, chemicals usually used in the manufacture of illegal drugs, petroleum products and radioactive chemical elements are strictly controlled.  Finally, gambling equipment and meat, fish, derivative products of meat and fish and honey all require certification for importation.
Conclusion
Hopefully you now have a better understanding of how to send a letter or parcel all the way to South Africa, and what you can actually put in it to avoid getting a call from Customs. Just remember to use this guide for the correct way to write and format the mailing address and ensure that all prohibitions or restrictions are adhered to.
Don't forget, you can also use e-Snail to easily post a real letter to anywhere in the world.